Widgets are texts, pictures and videos that you can add to your virtual tour to enrich the presentation. They can communicate new information which are not included in 360 photograph you use.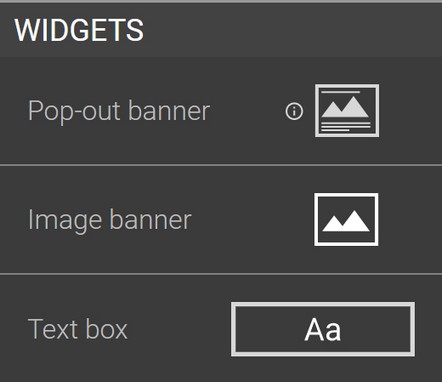 Pop-out banner
It is a clickable icon you add to your tour, which when clicked expands and show the information inside. It can but doesn't have to contain a title, a picture or a video, plain text, a link button or sound. You can use only one of those items or a combination of many. For example when you want it to only contain a picture jest leave the rest of the spaces empty.
Image banner
It is an image that sticks to wherever you put it. Sort of like a painting which hangs on the wall. You can choose how big it is supposed to be, where it should be placed in the scene and you can select rotation so it fits perfectly in your scene. It can be used to make the tour more attractive, cover what you do not want to show (for example the tripod) and to cover private information (like for example personal photographs in the apartment).
Text box
It is a plain text which is displayed in the scene. You can use it to describe the rooms, windows direction, or in the opening scene as the title. It is useful to convey information when your clients are visiting them by themselves and not in Coviewing mode.
---
How to use widgets?
Image banner
Drag and drop the image widget from the widgets menu
---
Pop-out banner
---
Text box
---
Keyboard shortcuts
When working with widgets you can use keyboard shortcuts:
Ctrl + C – Copy a widget
Ctrl + X – Cut the widget
Ctrl + V – Paste the widget
Delete – Delete selected widget (is has to be selected in your scene)
ESC – Minimise the widget (works for Pop-out banners)