Trisio Lite 2 – is it worth it? Who is it for?
July 27, 2022 by Jakub Kochański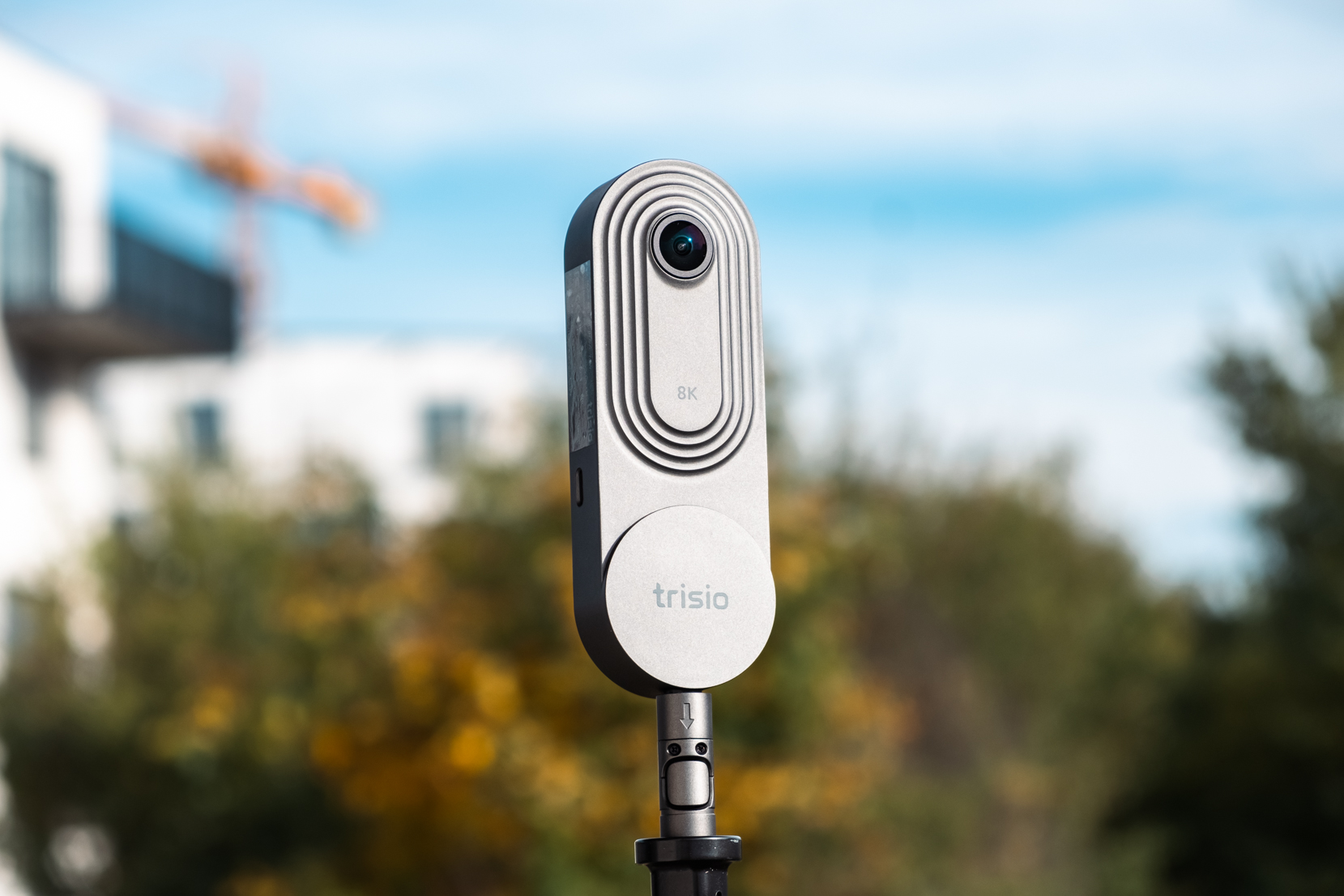 The Trisio company was kind enough to send me their new product – Trisio Lite 2 for review. First of all, I want to thank them for giving me the opportunity to try out their hardware. Thanks, David :). I tested it in different lighting conditions and here are my impressions.
It is aimed to be an affordable 360 camera for business with emphasis on a simple point-and-shoot workflow, centered around the jpegs. In an impressive 8k resolution. This means it is best suited for someone who wants the simplest shooting possible. No post-production in Lightroom or Affinity and no special skills are needed.
So basically if you want to create 360 virtual tours and don't want to learn anything about photography – Triso Lite 2 should interest you.
Below I will talk about my impressions of the camera in: camera build, image quality and ease of use. There are pictures from Trisio, Theta Z1 (quality contender) and Insta X2 (price contender) which show the details of image quality.
Also here is a link to a virtual tour made with Trisio 8k (it is also embedded at the bottom of the review).
Build and package
Let's start with the camera itself. It comes in a nice package, with a carrying case, USB-C cable, and an adapter, which is used to place the camera on a standard ¼-inch thread (which is typical for photography and lighting tripods and monopods).
The build of the camera is light and makes for comfortable transport, I have traveled to a couple places, and having the camera with me never bothered me with its weight or size. The size of the carrying case is quite big, I feel it could be smaller, but since you have to carry a tripod/monopod it will take up the least space of your gear anyways. There is a plus in there too, it felt really safe about throwing the Trisio in my backpack with other stuff, I was sure nothing bad would happen to it. The plastic casing of the camera itself seems like a good solution – it is lighter than metal, makes for a cheaper price and I was never worried about it breaking. The only concern I have is the rotator at the bottom. I happened to forcibly turn it, and I most definitely should not have done that. I was worried I had broken it. Some users of 360 cameras might automatically do the same, so you have to be extra careful about dismounting the camera from the tripod adapter with the button.
Other than that it has pretty much all I could want from the camera body. It doesn't feel too premium like Theta Z1, but that is not the point of this camera. It is to be a business workhorse producing good quality 360 images for sales, marketing, and other purposes. So does the Trisio deliver?
How it works
For those of you who have no experience with shooting 360 – to capture the whole room, or other space like a place outdoors or a warehouse or whatever you want – all you do is mount the camera on a tripod or a monopod, place on the ground and press the shutter button on the camera (or use the mobile app to trigger the camera) and that is it. Then you move it to another room/ place to capture the next 360 photos and rinse and repeat until you have photographed everything you need for your virtual walk. Normally it means one photo per room (unless it is a very, very big room, then you might want to take more).
Trisio Lite 8k does not work like your normal 360 camera though. The usual camera like Ricoh Theta or Insta360 has two lenses which they use to shoot everything at once while Trisio has one. This means that the camera has to rotate a couple of times to capture the whole 360 scene, but it also means only one optic system (lenses and sensor). I think it is a good optimization, as it allows you to have one good quality set of optical hardware instead of two of poorer quality. Two things as a result of this: it is not fit to take photos of dynamic situations, like shooting in a place where people are walking around, or some factory machines or vehicles are moving. It is not an issue at all in real estate and most industrial use, where we want to capture only the interiors and exteriors. The benefit is that (I realized now that I am writing this) you can easily hide yourself on the side of the camera behind the lens to not be in the photo very easily (Just stand behind the camera as it rotates and move as the camera rotates, no more playing hide and seek with the two lens camera).
Worth mentioning: capturing one photo takes a little longer (about 12 seconds, I did not time it though) than a classic system with two lenses. It is not long enough to be a problem or a considerable extension of the time you take photos. Just trust me, you will spend much longer walking around the property and placing the tripod than the camera will spend taking the pictures. So what about the images we get when we are done shooting?
Image quality
I compared the Trisio Lite 2 against Ricoh Theta Z1 (best quality available but with a complicated and long workflow) and Insta 360 X2 (similar price range as Trisio Lite 2). These were the cameras I was using before and to which I had access to.
EXTREMELY IMPORTANT: I should have compared Trisio Lite 2 against Ricoh Theta X, not the Z1. Why? Theta X is aimed at the same goal much more: it was designed to be a camera that produces ready-to-use 360 photos with great detail, resolution, and simplicity of use (aimed for professional and non-professional photographers alike). Theta Z1 is a better choice for a professional, who knows photography and is no stranger to photo editing in post-production. It shines when used in pair with proper technique. Judging the JPEGs of Theta Z1 is like judging Mike Tyson in a cooking tournament. However due to a lack of Theta X for comparison and focusing on a perspective of a non-advanced user (someone who will shoot the simplest way) I did that.
So the comparison method was: I shot a single jpeg with each camera (simplest workflow). I did not use the DFE plugin on Ricoh Theta – just shot and downloaded the images. I shot a single picture in:
A smaller room (high range of contrast)
A bigger room with blinds shut (darker conditions)
A bigger room with blinds shut and lights on (brighter but sharp artificial light conditions)
Outside (soft light)
Sharpness
The images are very sharp even compared to the benchmark Theta Z1. The level of detail is very satisfactory. What I liked the most was that I could read the texts in a newspaper which was lying on the desk.
Resolution
It is similar to Ricoh and better than Insta. The 8k is the biggest resolution which makes sense to use since the 360 photos are displayed on screens in cropped view. But make no mistake there are no pixels that are pointlessly there. In some photographic equipment, you get a lot of resolution and it is wasted since the image is not sharp, so it would look almost the same with lower resolution. That is not the case here, Trisio makes great use of their 8 and 4 thousand pixels (width and height respectively).
Dynamic range
Due to the camera taking 4 separate pictures and then stitching them together Trisio Lite 2 offers a great dynamic range (visibility in the darkest and brightest areas of your photo). You can see that in contrast areas like bright windows and shaded corners and furniture. Also, it makes the sky look great and all the details can be distinguished in the pictures.
Surprisingly it handles dynamic range much better than Ricoh Theta, at least in single jpeg mode. Of course, I can shoot the Dual Fisheye plugin or just work the light in post-production from raw (which I did for the same photos to compare the two cameras, and then the results were similar in 85% I would say). But it takes time and requires particular knowledge of Adobe Lightroom (or other software).
For me, this is the selling point of Trisio as the camera for someone who just wants to simply shoot 360 photos without bothering about the rest.
Colors / White balance
It was great. Trisio handled white balance much better than Ricoh and Insta, and whilst not perfect – the image was a little too warm in artificial light, it is still very consistent and reliable. I really would not see it necessary to correct the white balance in photos from Trisio.
It was the most consistent and reliable as you can see in the first row.
What I like is that the colors in Trisio photos look very natural, unlike Insta360, which has oversaturated colors. Saturation this high can be fun in your private life photography, but for professional use, the natural look is best. Photography should reflect the image closest to what we actually see and Trisio does exactly that.
Noise
Trisio produced lower noises than in the case of post-produced Theta Z1 photos, and far better than Insta X2. Normally I would use another post-production software to remove noise but with Trisio Lite 2 I would accept the 360 photos as they are.
Chromatic aberration
Here I have a little problem with Trisio. There was a significant chromatic aberration – also known as a fringing effect, causing purple or red lines on the edges of windows and other objects. You can notice purple lines along the edges of items. It is worth mentioning that after an update of camera firmware to the latest version there was an improvement in this. Photos with updated software can be seen in the virtual tour attached at the top and bottom of this article.
Ricoh Theta for comparison – barely any fringe effect, but at a cost of underexposure (note: Theta is also known to produce chromatic aberrations, I get a lot of them in DFE Plugin workflow. They just didn't manifest here, they tend to appear on windows):
Insta – has some red chromatic aberration:
Reliability
Generally, I found Trisio the most reliable when it comes to producing usable quality JPEGs when switching between different lighting conditions (mostly because of dynamic range). This is very important for someone who does the 360 tours, as a professional can not afford varied results in their photos.
Important: the most reliable is shooting with Theta with RAW and then producing the JPEGs with Lightroom, but this method is not available in Trisio.
Overall I am surprised how well Trisio Lite 2 performed in the test and honestly, my criteria are not easily met. It gives a very accurate image of how people would normally see the rooms and the outdoor locations, which should be strived for in 360 photography (unlike Insta X2, which produces images 'sparkling with fun' but not very fit for business use ;).
Mind that if I used Dual Fisheye Plugin on Theta it would have overcome Trisio. Maybe I will do the comparison in the future.
Workflow (how to shoot and use pictures)
How to shoot with Trisio Lite?
Interface
It is very simple. Just turn the camera on with a button and then press the shutter for the camera to start taking pictures. I have not tried the mobile app yet, but I am planning to. The one thing that could be a bother to a professional user is that there is no battery indicator, or it was just me who couldn't figure it out.
As to the mobile app, it is very simple and pleasant to use as well. More about that at the end of workflow section.
Option 1: The Camera and PC
Then you import the images to your computer via USB cable, and it works like a pendrive. I had no issues there. Just open the camera storage and copy the images to your computer.
Here I met a little bump as I found out that even though my PC said the files are jpeg's, which should be ready to use – they were not. They need to be processed by Trisio's software – Trisio Factory. Please be aware of that.
All you have to do there is choose Stitch pictures, show the Trisio Factory where you have your images from Trisio Camera and it will create your jpegs. It was really fast, 5 pictures took about 20 seconds. And there you go. You have your 360 photographs ready to be uploaded to Evryplace.
This step – extracting – is not an amount of time I would consider any obstacle, but a new user or a less tech-savvy person could take a couple of minutes to figure it out. Especially if the person has used another camera before, which produced ready-to-use jpegs. But once learned it will not be a problem at all. And maybe with the next versions of in-camera software, it will not even be necessary, I personally would like to see that in the future.
Option 2: The mobile app
Of course, there is also a way to shoot with a mobile app. Then you get the ready pictures right away on your phone. What I like about them is that they are usually under 6MB in size, making them fast and easy to deal with and they will not flood your mobile phone memory right away. This will be important for those who use their personal phone for work as well and for those who do not have a quarter of a terabyte smartphone but instead something like a budget Xiaomi.
Once you get the images on your phone you can send them over to a pc wirelessly, via a cloud if you're using one or by cable to upload the 360s to Evryplace.
I did not use this as I like to connect my cameras to a PC via cable anyways and the shooting was so simple without the app that it was the more appealing option for me.
A plus of using the app is that your phone processes the images so they are ready to use, so you don't have to use the Trisio Factory and it is one step less for you to do.
Post-production?
As Trisio shoots jpeg only. As opposed to RAW, a lossless format. For beginners: the possibilities of post-production like recovering details and altering light like lowering the highlights and upping the shadows (useful if there are dark corners, shadows or bright windows, corridors flooded with light) are almost non-existent. So now, is this bad?
Well, it depends. For someone who aims at the professional level of image editing, it might be a deal breaker. I would have really liked it if Trisio shot RAWs, but the JPEG image quality is very good as it is and should be more than fine for the vast majority of your virtual tour recipients.
For someone who is not a photography enthusiast and whose main job is being a real estate agent or a construction work supervisor, there really is no need for post-production. Like I said, Trisio is the best fit for a user who needs to spend as little time as possible shooting the 360s and does not strive for perfection (which would mean learning photography and photo editing).
I just personally hope that in the future Trisio can add shooting in RAW in the next software updates for all those professionals who would like to adjust their light curves in Lightroom or other software.
The other side of the coin is that working without post-prod is FAST. One image with a full editing process costs me about 10 minutes of just computer work. Getting the pictures with Trisio from shooting to using them was lightning fast.
TL;DR: Is Trisio worth it?
Long story short. Trisio is definitely my recommendation for those on a budget and those who are not willing to spend on a Theta X. I would actually say it provides about 85% of Theta X's and Z1 with proper workflow image quality for a price of a lower-tier consumer 360 camera. Because of how simple it is, Trisio Lite 2 is also a great choice for bigger organizations, that want to use it for real estate, retail, construction documentation, and other purposes, and don't want to train employees into photographers. With its price, it is easily replaceable when there is ever a need (cameras wearing out, breaking in accidents, etc.).
It is very reliable when it comes to shooting stable and sharp images with good dynamic range. It is easy to use and can give you very good results without having any specific photography and photo editing knowledge. Great everyday workhorse to be used and abused without thinking much about the camera itself (having thoughts like "Oh my, look at this light, my camera is not fit for this"). What i mentioned above: it is fast to use. Time is money.
I was actually surprised by how close it is to the market leader – Ricoh, and how far behind it leaves its price competitor Insta 360.
Virtual tour made with Trisio Lite 2
Here is a quick tour I made with it in Wroclaw Poland:
Enjoy 🙂